Jeera Aloo Recipe (Cumin Potatoes)
Jeera aloo, a flavourful & delicious North Indian side dish made with potatoes, spices and herbs. 'Jeera' is the Hindi name for the spice 'CUMIN' & aloo is the word for potatoes. So jeera aloo is potatoes sautéed with cumin. This is a quick, simple and delicious dish that can be made even by novice cooks. It is a side dish that can be eaten with Rice Dal, roti, paratha, phulka or Poori.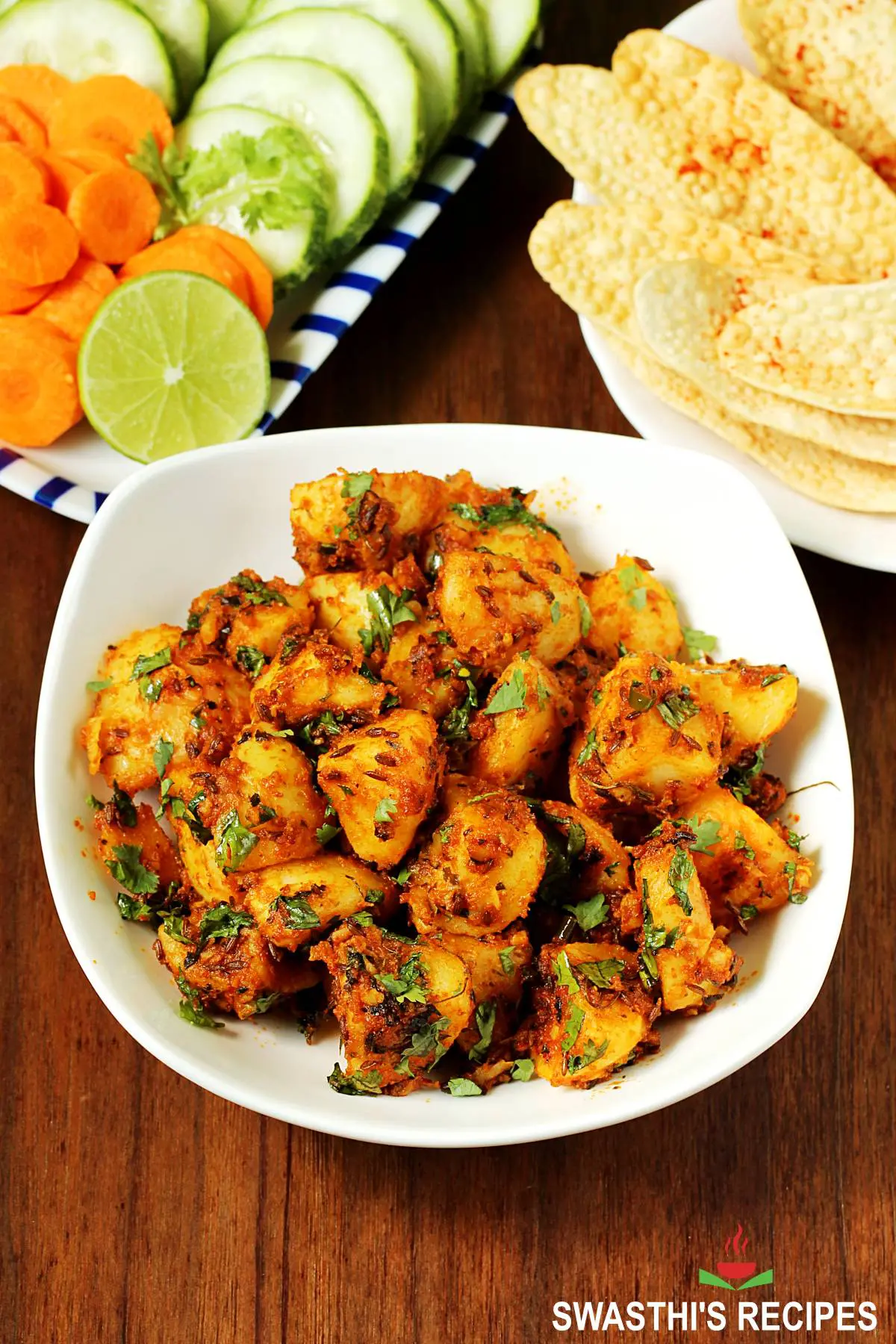 Jeera Aloo
I often make Jeera aloo for the office & school lunch box as there is no preparation work involved for this recipe. Like most other kids, mine too love potatoes. They enjoy this just with any thing, rice or roti as a side.
Sometimes I also use it as a filling in the Kathi rolls and sandwiches along with some julienned veggies.  This is a dry dish, so it is good to serve along with a gravy, dal or atleast a raita.
I resort to this jeera aloo when I have surprise guests home for a meal. Some basmati rice, dal, this jeera aloo, papads & kachumber is one of the best combos.
My recipe will give you jeera aloo that is super flavorful and not at all bland. It has a punch of flavors from whole cumin seeds, ground cumin, ginger, red chilli powder, coriander powder and kasuri methi.
Jeera aloo is served in most Indian restaurants in an North Indian thali (meal). There are a few different ways it is made. Some people make it just by sautéing the aloo with jeera, green chilies & ginger.
But I make it with more whole and ground spices. So this recipe will give you a very aromatic, mildly spicy & delicious Jeera aloo that you can even enjoy with just some plain rice & yogurt.
Usually jeera aloo is made very simple without the addition of a lot of spices. But my version does use them for a burst of flavors.
Here are some Potato recipes that are popular in the Indian cuisine:
hara bhara kabab
veg cutlet
aloo tikki
aloo gobi
Potato curry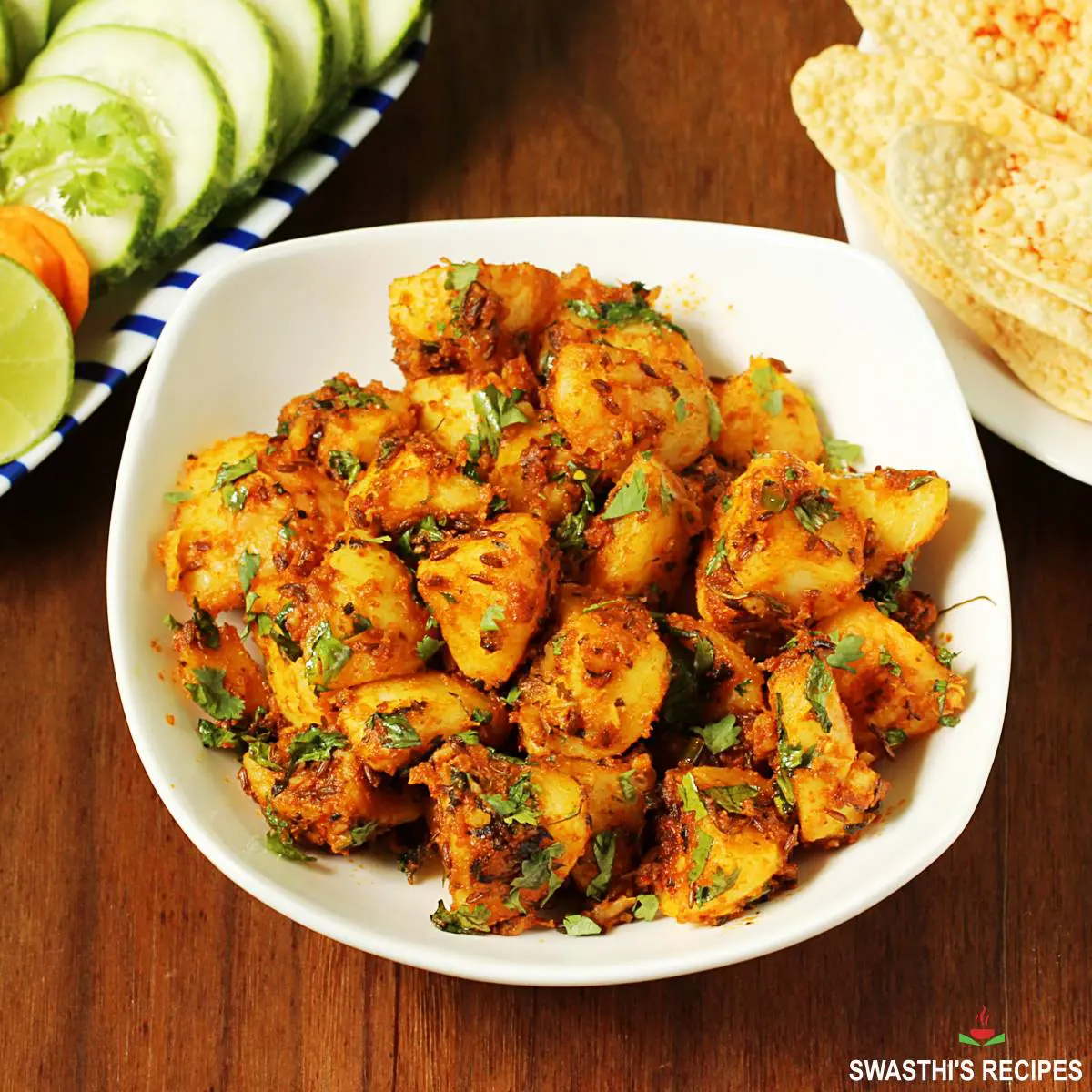 How to Make Jeera Aloo (Stepwise Photos)
Preparation
1. Wash potatoes thoroughly. Boil them just until cooked and not mushy. You can boil them in a pot, stovetop pressure cooker or an instant pot. You can also cube the potatoes first and add them to a steam basket. Steam them in pressure cooker or in a pot. The potatoes must hold shape and not become mushy.
Boiling potatoes in pot: Here I cooked them directly in a pot by covering the potatoes with just enough water. Bring the water to a rolling boil and reduce the flame to medium heat. Cover and cook them until fork tender but not mushy.
Boiling in pressure cooker: Pour 1 cup water to your stovetop pressure cooker or instant pot. Place the potatoes and cook them for 3 to 4 whistles depending on the size of the potatoes. If doing it in a IP, press the pressure cook button and set the timer to 6 to 8 minutes, depending on the size. For the largest russet potatoes, cook them for 10 minutes.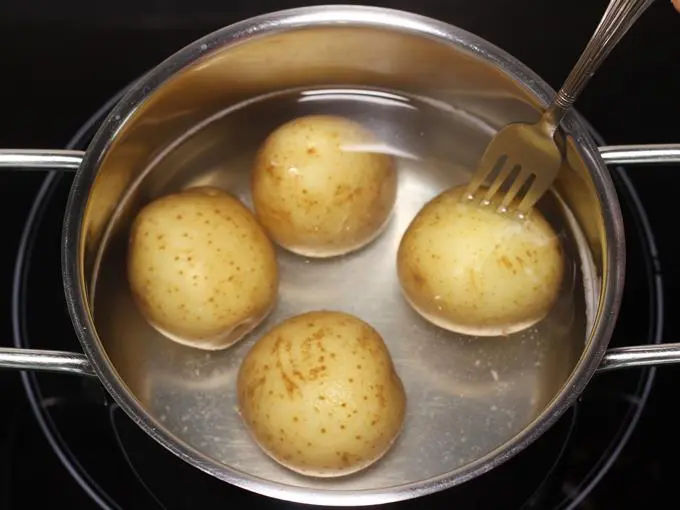 2. To check if they are cooked, prick with a fork. If still uncooked then you will feel the hardness. Cool them and remove the skin. Cube them to desired sizes. If you chop them too large they won't taste good.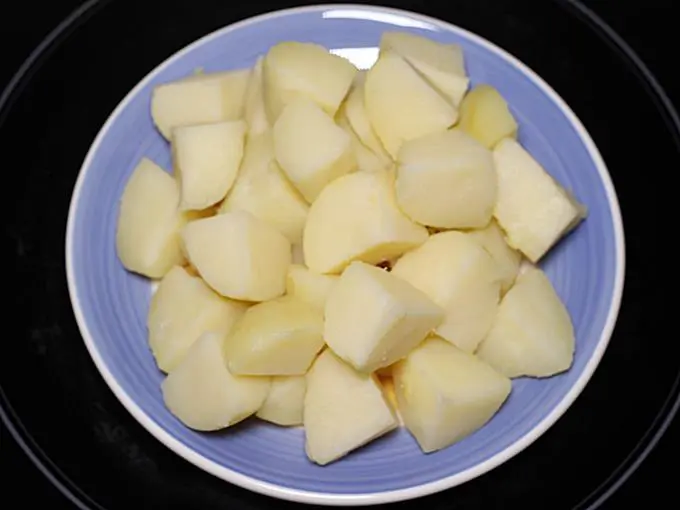 Tempering
3. Next add 2 tablespoons ghee or oil to the hot pan. Add 1¼ teaspoon cumin seeds and fry on a low heat until they smell good.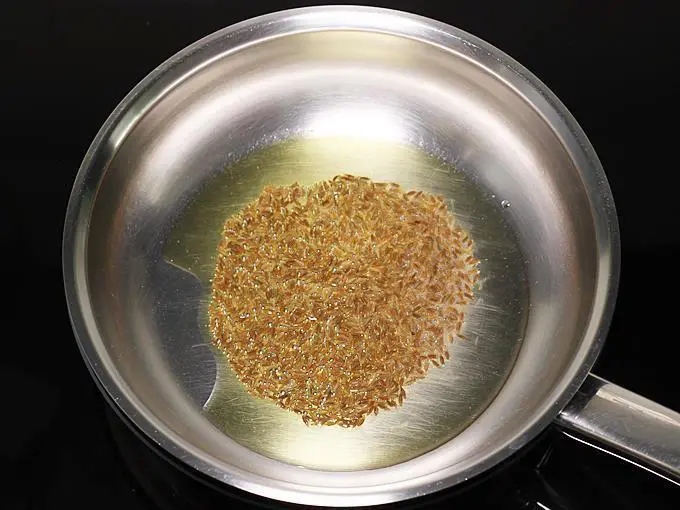 4. Add 1 chopped green chili and 1 tablespoon fine chopped ginger. If you have kids at home, skip the chili. Ginger is also optional but adds flavor. You can also add ginger garlic paste if you do not have ginger.
5. Fry them for a minute until a nice aroma comes out. Then add 1 pinch of hing. You can skip hing if you don't have or don't like it. Take care not to over fry ginger as it may lend a bitter taste.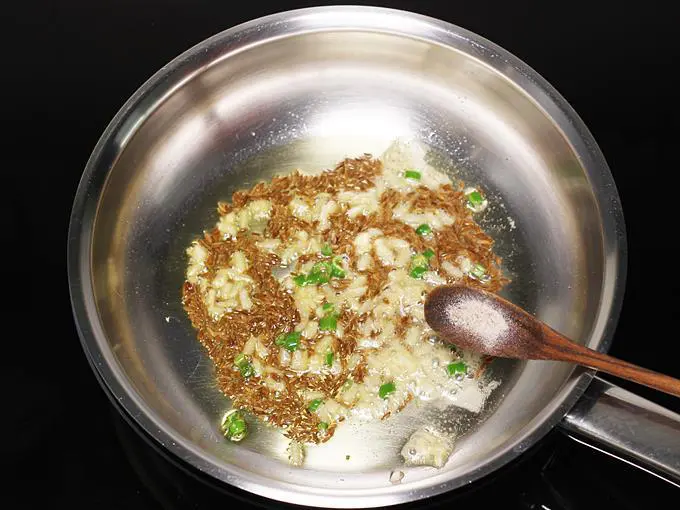 6. Reduce the flame to low. Add ¾ to 1 teaspoon red chilli powder, ¾ teaspoon cumin powder and 1¼ teaspoon coriander powder.
Tip: To make cumin powder, I roasted the cumin seeds on a low flame until aromatic. Cooled completely and then powdered. I usually make a lot of cumin powder and store it in a glass jar. I do the same to make the coriander powder as well.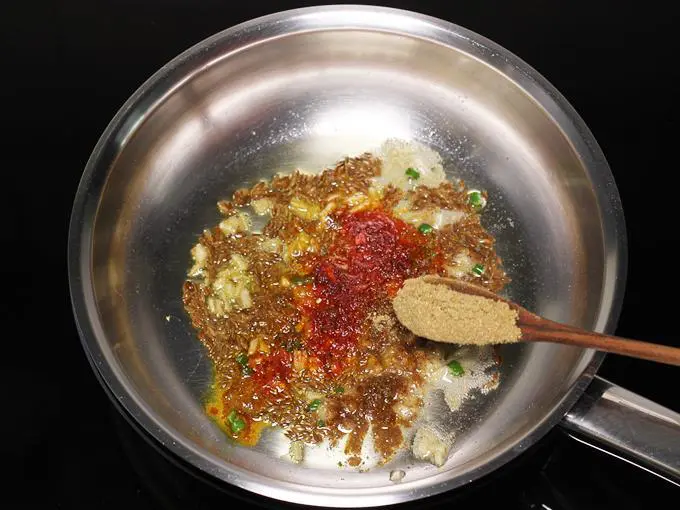 7. Add ¼ teaspoon dried mango powder (amchur). You can skip this and add lemon juice later.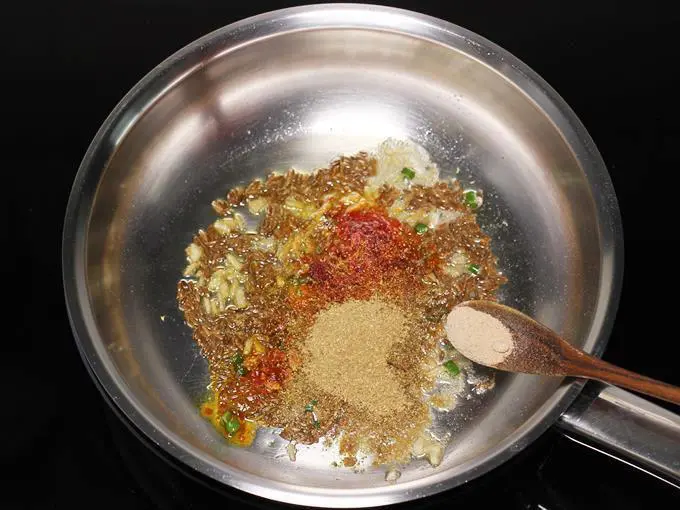 8. Add ¼ to ½ teaspoon salt and 1 teaspoon kasuri methi (dried fenugreek leaves) too. You can skip kasuri methi, but we love that as it adds a unique aroma.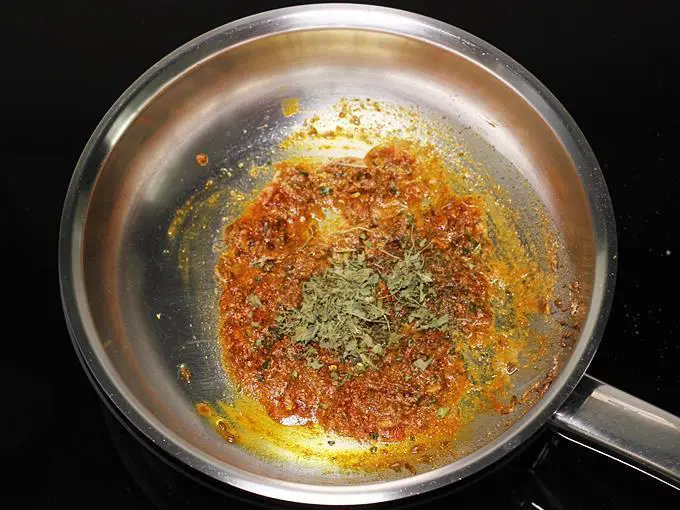 9. Mix and fry for a 30 seconds to 1 minute. Do not burn. Quickly pour 3 tablespoons water and mix.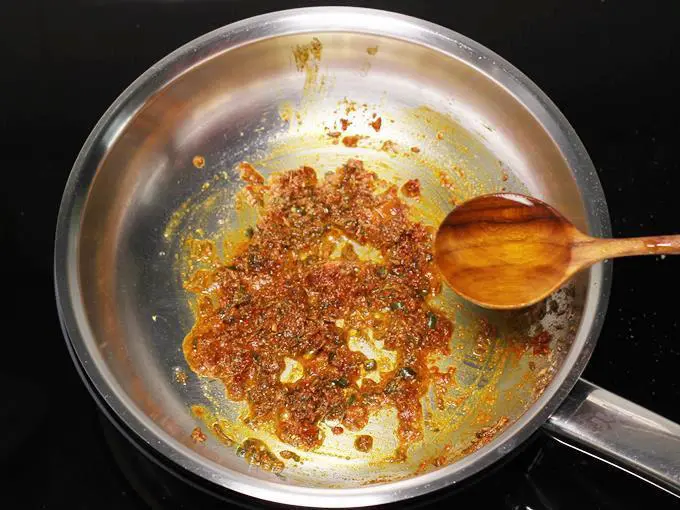 10. Soon the the spice powder blends well with water and thickens.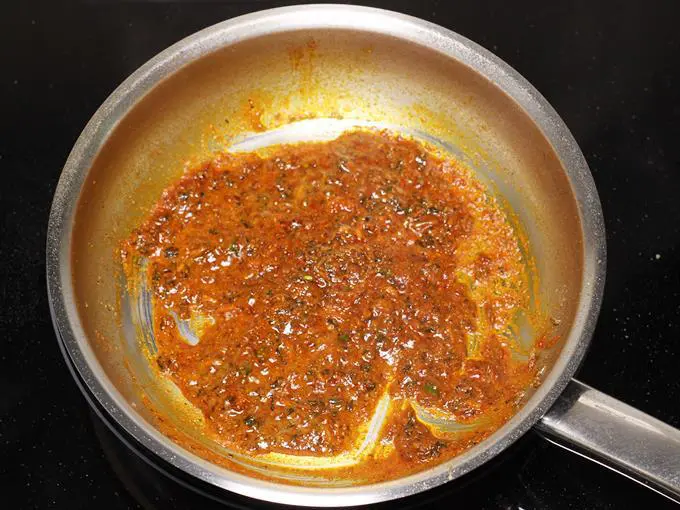 Sautéing Jeera Aloo
11. Next add in the potatoes and toss them gently. Do not over mix otherwise they may turn mushy.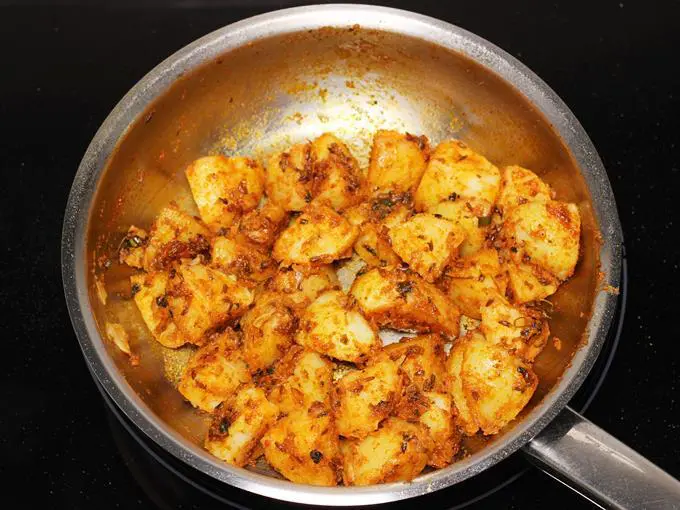 12. Cover and cook on the lowest flame. This helps jeera aloo to absorb the flavors. Taste it and add more salt if needed.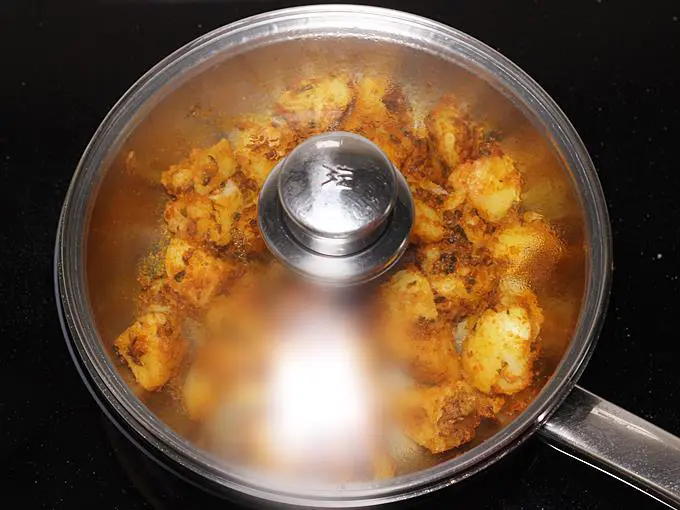 13. Finally sprinkle finely chopped coriander leaves.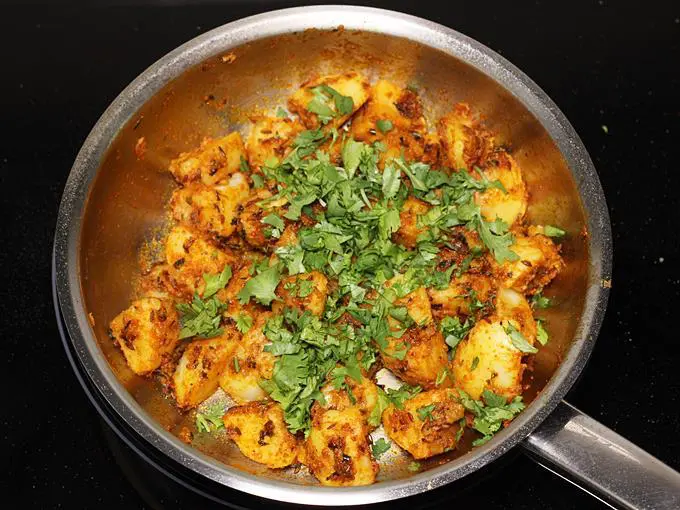 Serve jeera aloo as a side with rice, roti or paratha. It also goes well in sandwiches, wraps or rolls.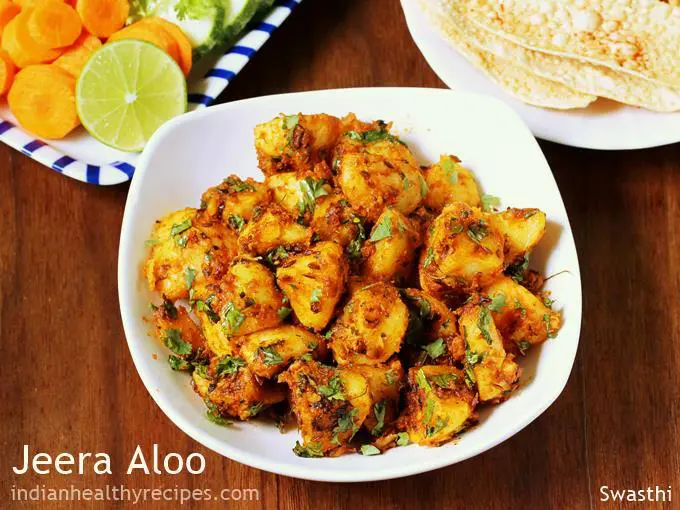 Pro Tip
Jeera aloo can be made made in 2 ways. First method is to boil the potatoes and then saute them with spices. The second method is to saute the aloo first with cumin and then cook them in the pan itself. I go with the first method as it is easy to boil the potatoes first.
Most homes make jeera aloo in the simplest way just by using cumin and green chilies to spice & add heat. But I prefer to use a few more ingredients which elevate the flavor of the dish.
You can also grill the potatoes in a oven and then add them to the tempering. I often do this for dinner to go with the rice & gravy.
Variations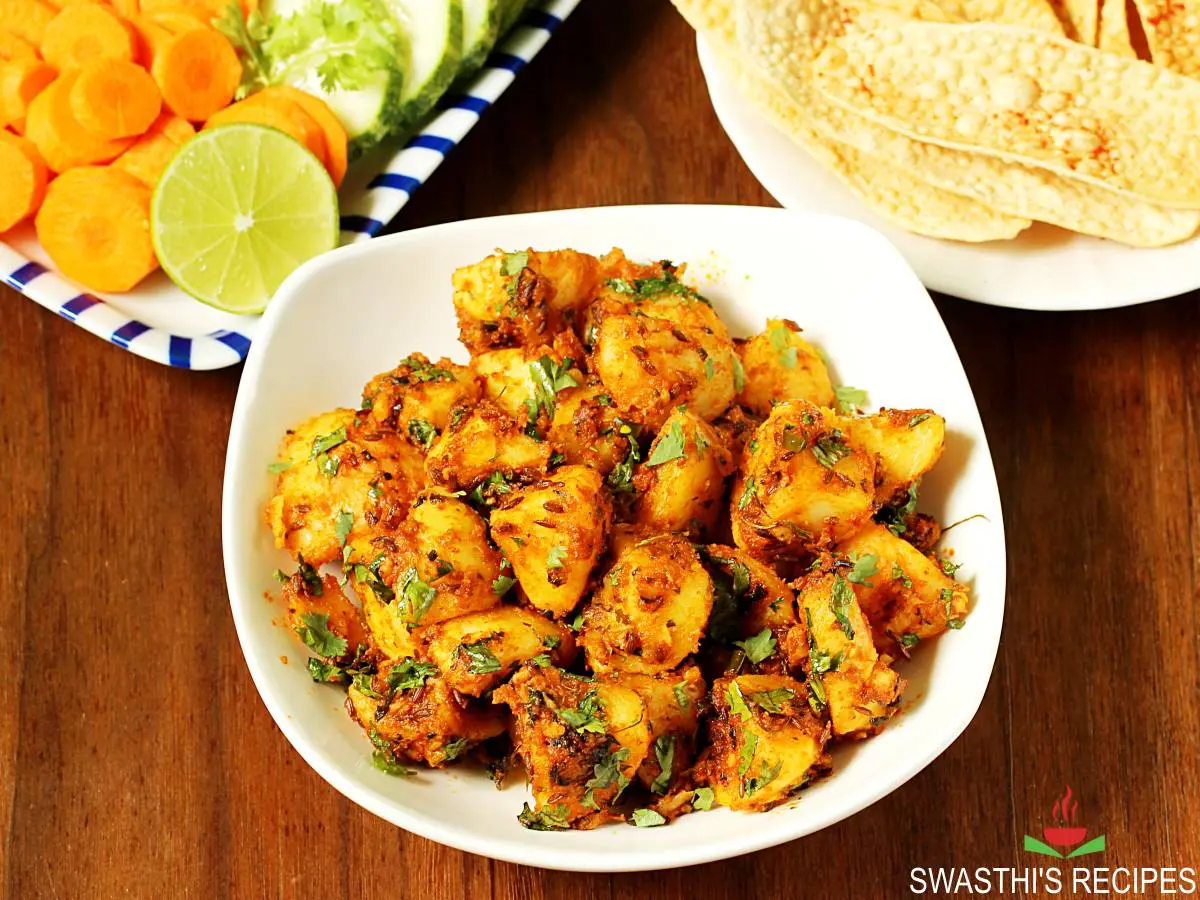 I make so many variations to this recipe. Kids need fancy & new varieties every time for their meal. So I sometimes add in some green peas, cubed capsicum, sometimes a handful of methi leaves or palak (spinach).
I even add sliced mushrooms or broccoli. Then roast them for a while. Then add the potatoes. Any variations will just go well in this dish. Get creative & add in the veggies you love!